Wednesday 13 January 2016
A special nod to Leonardo DiCaprio who kicked off 2016 in style by winning a Golden Globe.
It's not an Oscar, of course, nor is it his first win of an award ever—although you could be forgiven for thinking otherwise going by the sheer volume of media frenzy surrounding it. Nevertheless, it is safe to say we are all relieved to have some newsworthy occurrence from his life to write about that doesn't concern his latest purchase from the Victoria's Secret catalogue.
Fans were reminded of what could have been (and what features in extensive fanfics across the internet. None of which were written by me) when a hug between Leo and Kate Winslet that could have made it to the final cut of the Titanic was caught on camera. Oh Leo, you should have married Kate when you had a shot (the 2009 Golden Globes when she declared her love during her acceptance speech, to be specific). Then you could have had our respect, as well as our love. But no, she had to go and marry Ned RocknRoll instead. Truly, I don't know which is more offensive: his first name or his last…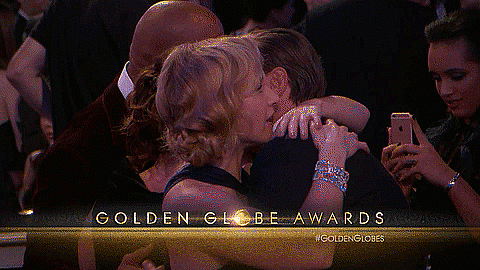 However, true fans of the Golden Globes will be able to tell you that it wasn't this moment, nor even the hour long acceptance speech, in which he have a grateful nod to his makeup artist, as well as the indigenous people represented in whichever film isn't good enough to win an Oscar this year, that helped DiCaprio really steal the show. Instead, let's endlessly rewatch the gif of him laughing at Lady Gaga, only to be bitch slapped back down into his seat by her on her way to pick up her award. That is why we watch.